Industry-Accredited Professionals Dedicated to Putting Patients First
Rockford Orthopedic Appliance Co. provides our patients with the very best clinical care by our industry-accredited and state-licensed practitioners. Our certified orthotic, prosthetic and pedorthic practitioners continually strive to enhance their skills through ongoing continuing education, training and industry accreditations.
In addition to our qualified staff, our facility has been recognized for our achievements as a superior provider of orthotic, prosthetic and pedorthic services. All of these extraordinary credentials ensure that our patients receive the highest-quality care from a company that is dedicated to putting our patients first.
ABC Board Certified in Orthotics, Prosthetics & Pedorthics


The American Board for Certification (ABC) is the national certifying and accrediting body for orthotic, prosthetic and pedorthic professionals, and is the industry's quality standard in certification. To become ABC-certified, practitioners must successfully meet the stringent educational standards, clinical training and competency assessment requirements set forth by ABC.
At Rockford Orthopedic Appliance, every practitioner that provides orthotic, prosthetic and pedorthic patient care services is ABC Board Certified. Our staff is comprised of five ABC Board Certified Practitioners:
two Certified Prosthetist Orthotists (C.P.O.)
one Certified Prosthetist (C.P.)
two Certified Pedorthist (C.Ped)
one Assistive Technology Professional (A.T.P.)
one Certified Orthotic Fitter (C.O.F.)
Individually, and as a group, our practitioners are leaders in their field, and provide the highest quality patient care, along with excellence in research and device design.
ABC Board Certified Facility
Rockford Orthopedic Appliance also holds a Facility Accreditation in Orthotics, Prosthetics, Pedorthics and Durable Equipment. We have been recognized by ABC for our achievements in the organizational management of quality, facility safety management and supplier standards. This award represents the highest level of accreditation that can be achieved in the industry.
To learn more about ABC, visit their Web site at www.abcop.org.
RESNA Certified Assistive Technology Professional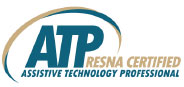 The Rehabilitation Engineering and Assistive Technology Society of North America (RESNA) is a non-profit professional organization whose members serve people with disabilities seeking technology applications to maximize their ability to function in their environments. The RESNA Assistive Technology Professional (ATP) certification was developed to ensure quality assurance by assistive technology professionals who support people with disabilities.
Rockford Orthopedic Appliance employs one of the only 4,000 RESNA certified Assistive Technology Professionals in the U.S. His focus is to analyze the needs of our patients with disabilities, and assist them in the selection and proper use of the appropriate equipment. This equipment includes manual and power wheelchairs, walkers and other ambulatory aids.
To learn more about RESNA and this certification, visit their Web site at www.resna.org.
Industry Associations
Rockford Orthopedic Appliance and its staff are members of many industry associations. Our involvement with these organizations keeps us informed of the latest developments in orthotics, prosthetics and pedorthics.
Our affiliations include:
Member of the American Orthotic & Prosthetic Association (AOPA)
Charter member of Illinois Society of Orthotists, Prosthetists & Pedorthists (ISOPP)
Member of Pedorthic Footwear Association (PFA)
Members of the American Academy of Orthotists and Prosthetists (AAOP)